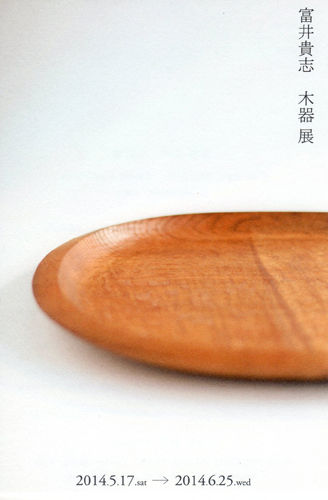 今週土曜日17日より うつわ 京都 やまほん にて個展です。今回はナラ材を用いてオイルで仕上げたものを中心に、チェリーのボウル、栗の盆や器なども展示の予定です。漆のものは一切ない予定で準備しています。期間が長いのでご都合のよいときにぜひお出掛け下さい。初日に在廊予定ですが、会期が長いため他の日にもいると思います。またこちらで告知させていただきます。
富井貴志 木器展
2014.5.17 Sat. - 6.25 Wed.
11:00 - 18:30
在廊日 5月17日
うつわ 京都 やまほん
京都市下京区堺町21番地 jumukinoueda bldg 3F-301
075-741-8114
A solo exhibition at Utsuwa kyoto yamahon in Kyoto will start this Saturday. You can find many oak trays and dishes, cherry bowls, and chestnut trays. No lacquer ware this time! Please come see me on the first day of the exhitibion!
Takashi Tomii Solo Exhibition
Utsuwa kyoto yamahon
3F-301 jimukinoueda bldg 21 Sakaimachi Simogyo-ku Kyoto, Kyoto JAPAN