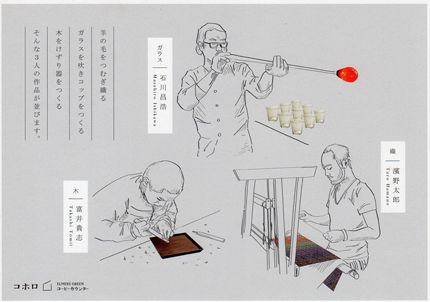 15日土曜日より大阪は淀屋橋の コホロ にて 硝子の 石川昌浩 さん、織の 濱野太郎 さんとの3人展が開催されます。いよいよ冬らしくなってきた中ですが、ぜひお出掛け下さい。初日の15日には3人とも在廊予定です。

石川昌浩 富井貴志 濱野太郎 展
2014.2.15 Sat. - 2.28 Fri.
11:00 - 19:00
作家在廊日 15日
コホロ ELMERS GREEN コーヒーカウンター
大阪府大阪市中央区今橋3-2-2
グランサンクタス淀屋橋1F

An Exhibition with Masahiro Ishikawa and Taro Hamano will start on February 15th at KOHORO in Osaka. The three will be in attendance on the first day!