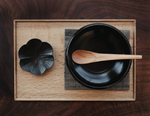 EXHIBITION : Tomii Takashi
Mjolk
2959 Dundas Street West
Toronto, Ontario M6P 1Z2
Canada
Presenting the first North American exhibition for Japanese wood artisan Tomii Takashi.
Tomii Takashi is known as a prodigy in Japan, and is quickly becoming one of the most recognized wood workers in his field. His work exhibits very clean modern forms that are contrasted by soft tool marks. These marks leave a connection to the maker, and also reveal that such refined work can be
made by the hand. As well, Tomii is interested in reintroducing lacquerware into the homes of a new generation.
Our opening reception for this event is on June 26th from 7:00 - 10:00pm, and we are fortunate enough to have Tomii Takashi in attendance for the opening.
See a sampling of his work here.
New work will be available at the exhibition, with online to follow.
トロントの Mjolk での個展です。2年ちょっと前からお取り扱いいただいている若いオーナーのギャラリーショップです。初めて海外へ紹介いただいたお店で個展ということでとてもありがたく思っています。26日はレセプションとのことで、制作動画などもお見せする予定です。
僕は自宅で外国製のキッチンツールや器も当たり前のようにずっと使ってきました。それと同じように僕の作ったものを日本国外の人たちにも使ってもらいたい。ものが彼らの生活に自然に溶け込めたらと思うのです。ただ、そこへ至るまでには作ることのできる数の問題や価格の問題、信頼性の問題など様々な乗り越えるべき壁があるのですが、それに取り組んでいくことがひとつの仕事かなと思っています。
お近くの方がいらっしゃいましたらぜひ!